How To Paint Breathtaking Water Color Scenes
Easy Video Tutorials Taught By A Pro Artist
Dear Drawing Enthusiast
Watercolour drawing by far outstrips all other forms of drawing for newcomers as it provides a medium for virtually anyone to get into painting.
In the past I am sure you have become frustrated as some people have a natural knack to draw whatever they want, and their drawings look fantastic, expressive and unique.
With watercolours you can produce a quick sketch of that wonderful landscape that's in front of you and will inspire you and remind you of that time for years to come… recalling the sights, sounds, aromas and emotions like no photograph alone could ever rekindle.
Yet for many, watercolor techniques aren't always the easiest to master certainly until you get used to them.
It has a mind of its own that can at times seem to fight you all the way.
Yet when you learn to accept that it sometimes pulls you in directions you didn't expect, suddenly you start to see happy accidents in your pictures that you learn to exploit, that previously you regarded as disasters.
Do Watercolour Techniques Require A Lot Of Practice?
Unlike other drawing methods like oil paints or acrylic paints, watercolor techniques require you to work from light to dark.
So you need a bit more pre-planning your painting, which once mastered, will stand you in good stead, whatever type of paint medium you use. This is where the myth comes from.
This 'pre-planning' isn't rocket science. It's just thinking for a second where you want to reserve the lightest parts of your painting before you actually start to paint.
Acquiring watercolour techniques for your drawing is quite easy following a structured plan.
We have created Water Colour Mastery so that with this simple step by step watercolour drawing lessons you'll be able to draw people, hands, eyes and faces in record time – and this goes regardless of your previous experience.
With 10 video clips 15 – 30 mins long and a detailed written PDF on how to draw people using water colour paints you will have all the information you need to bring your drawings to life.
What Can I Learn With This Course Exactly?
Well, the good news is that Water Colour Mastery is generously illustrated showing you step-by-step how to draw people, hands, eyes and faces from beginning to end, and a goldmine of sample illustrations for further ideas.
With clear (and fun) instructions on how to draw … you'll learn at your own pace in the comfort of your home.
Check out the course outline below….
I'll Also Throw In This Additional Bonus
Monthly Drawing Tutorials
As part of your order I'll also provide you with a 7 day free trial to our latest 'Monthly Drawing Tutorials' subscription.
Each month you'll receive two brand new drawing tutorials send straight to your email.
Drawings range from portraits to landscapes, animals to seascape scenes and more.
You'll also learn how to use water colors, pastels, charcoal as well as different shades of pencil and much more.
Normally this costs $129 for a year but as part of your order I'll give you a FREE  7 day trial to the subscription (which you can cancel at any time)
If you enjoy the tutorials (which I'm sure you will), simply do nothing and our systems will automatically charge you a discounted rate of just $9.95/mth.
You can cancel at anytime and there is no risk or obligation on your part.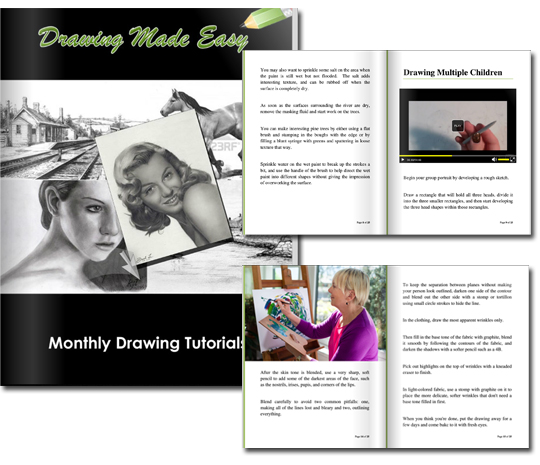 Secure Your Copy Now & Get Started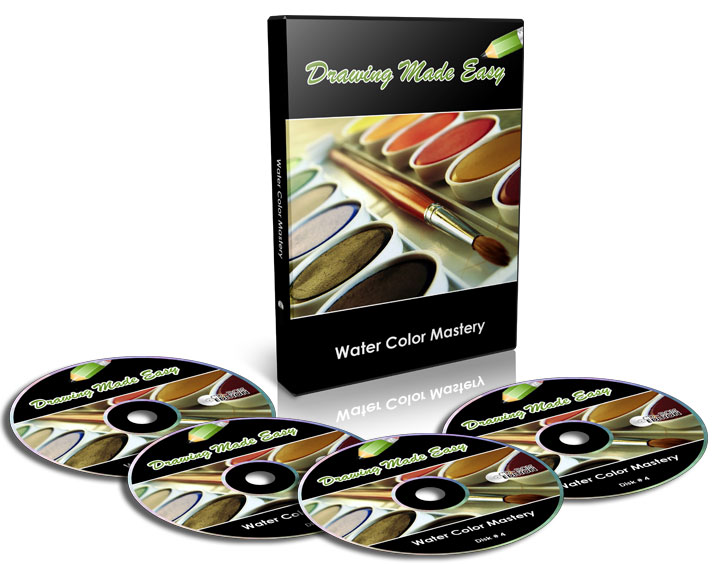 60 Day Money Back Guarantee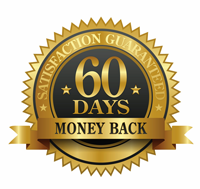 All my customers know that I go the extra mile to make them happy. And you will get the same personal service.
So if you aren't happy with anything at all within 60 days … just contact me at info@drawing-made-easy.com and you'll receive a full refund on course promptly!
My very first course on water color and am impressed with what I've seen so far. Clear explanations, easy to follow diagrams and the artist has a wealth of knowledge behind her. Highly recommended!
I originally purchased this for my daughter but after seeing some of the lessons … I decided to give it a try for myself. All I can say is WOW! Excellent course, very informative and very enjoyable to see the paintings come together in the end.
Click the "Add To Cart" button below, fill out your information on the next page, and then once the order is successful, you'll be able to download the tutorial to your desktop.
If you select the hard copy, it will be packaged and sent to your postal address within the next 24 hours so you have a master copy on file for life.
We also provide you with the online version (incase you have troubles downloading or the files are too big) so you can view it online on ANY device and / or take it with you when you travel.
It's that simple! Just a few minutes from now you'll be viewing your first lesson.
My advice is to start off slow. Practice the ever-so-simple drawing lessons with the help of Water Colour Mastery and you will get better!
If it's not your first time learning how to draw using watercolours – I hope I can offer some new tips and tricks to add to your drawing arsenal!
Well, with that said… all set to begin? Grab yourself something to draw with, something to draw on, and let's get started!
P.P.P.S. If you're wondering if our course works on a PC or MAC … the answer is BOTH! On the next page you can download either PC version or MAC version as well as view it online. Combined with our full 60 day money back guarantee … you really have nothing to loose and everything to gain.