Create Your Next Masterpiece In Half The Time
Time Saving Techniques Pro Artists Use To Double Their Productivity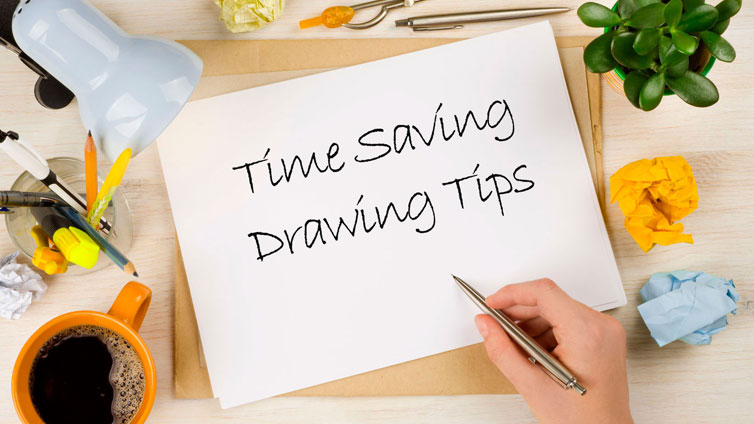 Dear Drawing Enthusiast
Our parents, teachers, family members, friends and basically anyone you talk to has always said something along the lines of "Practice makes perfect".
Whether it be sport, politics, reading, writing, learning some new…anything and everything needs practice to excel.
In theory this is a sound concept but there are good and bad ways to practice.
So how does an artist know how they should proceed to get the best out of their practice time?
Practice Plus Time Saving Techniques Gives You The Right Formula For Success In Drawing!
Ineffective practise is counterproductive and you end up more frustrated and less refined as an artist then when you first started.
Practise effectively, and you can progress much faster than you would have thought possible with much less effort.
Small things such as clearing your workspace and using the right equipment are much more important than you might realise.
We have teamed up with a professional artist and asked her for the top 10 time saving tips when drawing.
With 10 video clips and a detailed written PDF will have all the information you need to increase your productivity.
What Can I Learn To Do With This Course?
Well, the good news is that Time Saving Drawing shows you step-by-step how to simply be more efficient with your drawing and is a great guide of techniques that cater from beginning to end.
No stone is left unturned and with clear (and fun) instructions on how to utilize your time to make your drawings pop with lifelike features… you'll learn at your own pace in the comfort of your home.
Check out the course outline below….
I'll Also Throw In This Additional Bonus
Monthly Drawing Tutorials
As part of your order I'll also provide you with a 7 day free trial to our latest 'Monthly Drawing Tutorials' subscription.
Each month you'll receive two brand new drawing tutorials send straight to your email.
Drawings range from portraits to landscapes, animals to seascape scenes and more.
You'll also learn how to use water colors, pastels, charcoal as well as different shades of pencil and much more.
Normally this costs $129 for a year but as part of your order I'll give you a FREE  7 day trial to the subscription (which you can cancel at any time)
If you enjoy the tutorials (which I'm sure you will), simply do nothing and our systems will automatically charge you a discounted rate of just $9.95/mth.
You can cancel at anytime and there is no risk or obligation on your part.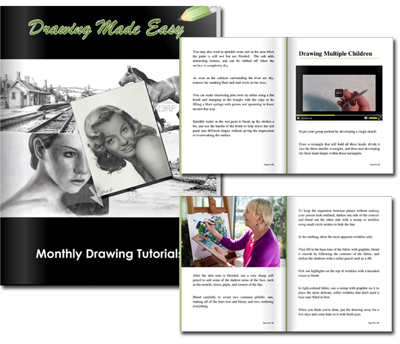 Secure Your Copy Now & Get Started
60 Day Money Back Guarantee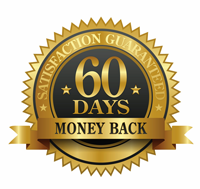 All my customers know that I go the extra mile to make them happy. And you will get the same personal service.
So if you aren't happy with anything at all within 60 days … just contact me at info@drawing-made-easy.com and you'll receive a full refund on the course promptly!
Very glad I decided to try this course. Your tips really helped me save a lot of time on my sketches and just becoming more efficient with the way I work overall. Great course!
Another outstanding course I've bought from you and loved the inside look into the artists studio layout. Contains great tips on how to better organise yourself … something I really need!
Click the "Add To Cart" button below, fill out your information on the next page, and then once the order is successful you can download the course straight to your desktop.
It's that simple!
It's that simple! Just a few minutes from now you'll be viewing your first lesson.
General and unfocused drawing practice is simply a waste of time. Yes trial and error is a great way to weed out what works and what doesn't but it can leave you frustrated and deflated.
Do yourself a favour and grab our tips and tricks from an insider and watch as you progress and begin to feel satisfied with drawing. The creativity will be flowing so jump on it.
Well, with that said… all set to begin? Grab yourself some supplies and let's get started!
Warm Regards



Chris Elmore
Drawing Made Easy
P.S. If you download 'Time Saving Drawing Tips' to your hard drive and you still can't draw more efficiently by the end of it … simple request a full refund (there's nothing to send back) so you basically get to keep it free!
P.P.S. A common question asked by others is whether it matters which country I live in.  The answer is no … you can download the course from any location in any country, no matter what your age or current skill level.
P.P.P.S. If you're wondering if our course works on a PC or MAC … the answer is BOTH! On the next page you can download either PC version or MAC version or view it online.  Combined with our full 30 day money back guarantee … you really have nothing to loose and everything to gain!
P.P.P.S. If you're wondering if our course works on a PC or MAC … the answer is BOTH! On the next page you can download either PC version or MAC version as well as view it online. Combined with our full 60 day money back guarantee … you really have nothing to loose and everything to gain.