Learn To Draw Images In Perspective
Easy Perspective Drawing Video Tutorials Taught By A Pro Artist
Dear Drawing Enthusiast
Are your drawings lacking depth, a sense of space and realism? If they are then this one word will allow you to transform drab drawings into lifelike art pieces.
That word is "Perspective Drawing".
It is a term used quite frequently used when learning to draw yet it scares people away because of its complexness.
Perspective is the set of techniques that anyone involved in representational drawing uses to transpose a 3D scene onto a 2D format, or, in simple words, it's how you make your drawings look real.
You have to study it and know the principles if you have any chance at all of bringing our drawings to life.
Learning perspective is a fundamental element that you need to master before you can draw like a true professional.
Turning A 3D Scene Into 2D Format Doesn't Have To Be Hard Or Complicated
Every beginner artists knows that they will eventually need to know how to transform a 3D scene into 2D format because it is a fundamental technique needed to take your drawing skills to the next level.
The problem is that it is difficult to get the balance right and know exactly what steps you need to make your drawing look more real.
It is a frustrating task when you first start out on making your pictures look my 2D but once you have the right information giving you the exact technique needed it becomes easier with time and practice.
That's where we can help you with perspective drawing…
We have been working together with an established artist who knew she wanted to be an artist since the age of 5 and has worked towards that ever since.
She has attended University to earn a double major in art and speech and is currently a signature member in the Northern Hills Watercolor Society.
This is where she keeps up on art education by attending workshops and works as an illustrator for children's books.
We have teamed up together to create "Perspective Mastery".
Make Your Artwork Jump To Life By Using Our Proven Methods Anyone Can Learn
The good news is that our perspective drawing course is generously illustrated showing you step-by-step how to make your perspective drawings come to life.
With clear (and fun) instructions on how to draw perspective  … you'll learn at your own pace in the comfort of your home.
You get 20 high definition videos with simple and easy to follow written instructions so you know exactly how to make your drawings jump off the page.
Check out what is included inside Perspective Mastery….
I'll Also Throw In These Additional Bonuses
Monthly Drawing Tutorials
As part of your order I'll also provide you with a 7 day free trial to our latest 'Monthly Drawing Tutorials' subscription.
Each month you'll receive two brand new drawing tutorials send straight to your email.
Drawings range from portraits to landscapes, animals to seascape scenes and more.
You'll also learn how to use water colors, pastels, charcoal as well as different shades of pencil and much more.
Normally this costs $129 for a year but as part of your order I'll give you a FREE  7 day trial to the subscription (which you can cancel at any time)
If you enjoy the tutorials (which I'm sure you will), simply do nothing and our systems will automatically charge you a discounted rate of just $9.95/mth.
You can cancel at anytime and there is no risk or obligation on your part.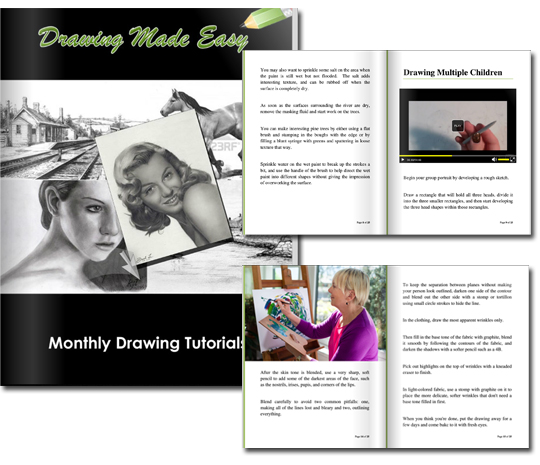 Secure Your Copy Now & Get Started
60 Day Money Back Guarantee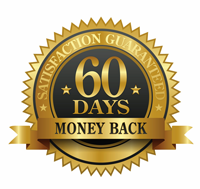 All my customers know that I go the extra mile to make them happy. And you will get the same personal service.
So if you aren't happy with anything at all within 60 days … just contact me at info@drawing-made-easy.com and you'll receive a full refund on the course promptly!
Awesome course! It really inspires you to think in terms of dimensions and then shows you how to capture it on paper. Well done.
I'm still going through the course but it is a real eye opener for me. I'm learning so much with this and can't wait to get started drawing my first piece!
Click the "Add To Cart" button below, fill out your information on the next page, and then once the order is successful, you'll be able to download the tutorial to your desktop.
If you select the hard copy, it will be packaged and sent to your postal address within the next 24 hours so you have a master copy on file for life.
We also provide you with the online version (incase you have troubles downloading or the files are too big) so you can view it online on ANY device and / or take it with you when you travel.
It's that simple! Just a few minutes from now you'll be viewing your first lesson.
Being able to draw realistic looking images that look as though they are jumping right off the page is now something you can learn with the help of our perspective drawing course.
Forget boring art classes or thick books because we give you the need to know information with video to make learning easier and fun.
Anyone and everyone needs to know how to add perspective to their drawings and whether your 14 or 74, its all in the technique and we provide you with this.
Well, with that said… all set to begin? Grab yourself something to draw with, something to draw on, and let's get started with perspective drawing now!
P.P.P.S. If you're wondering if our course works on a PC or MAC … the answer is BOTH! On the next page you can download either PC version or MAC version as well as view it online. Combined with our full 60 day money back guarantee … you really have nothing to loose and everything to gain.