Learn To Draw Beautiful Animals
How To Draw Animals With Easy Video Tutorials Taught By A Pro Artist
Dear Drawing Enthusiast
Any drawing enthusiast who has visited the zoo or looked at their pet has thought "Wouldn't it be great to draw them and have the picture represent a life like picture".
The problem is that most drawing enthusiast start to draw and get stuck. There picture just isn't turning out how they had imagined it.
The key is, there is always an essential ingredient that is the difference between drawing dynamic life like animals and ones that look boring and flat.
Once you know the secret you can literally draw any animal you like and it will jump right off the page and you will be extremely proud of your work.
You Don't Need To Be A Professional Artist
You don't need to be a professional artist to be able to draw animals how you have envisioned when you last looked at your dog or cat.
All you need is the right equipment and the right techniques to master the art of drawing animals.
We have created a brand new course that gives you the necessary information in a easy to follow format so you get the techniques you need without any frustration or spending $1000's on art lessons.
You can learn in the comfort of your own home when you have free time which is what makes this way the easiest to learn how to draw animals.
Bring Your Boring & Dull Animal Drawings To Life
Animal Mastery is what you need to successfully learn to draw your favourite animals. Forget the boring old one dimensional drawing that looks like a 12 year old drew it.
We give you clear videos showing you step-by-step how to draw animals.
With clear (and fun) instructions on how to draw … you'll learn at your own pace in the comfort of your home.
Check out what is included inside Animal Mastery….
I'll Also Throw In These Additional Bonuses
The Enjoyment Of Art PDF Report
The purpose of this book is to set forth in simple, untechnical fashion the nature and the meaning of a work of art.
Although the illustrations of the underlying principles are drawn mainly from pictures, yet the conclusions apply equally to books and to music.
It is true that the manifestations of the art-impulse are innumerable, embracing not only painting, sculpture, literature, music, and architecture, but also the handiwork of the craftsman in the designing of a rug or in the fashioning of a cup or a candlestick;
It is true that each art has its special province and function, and that each is peculiarly adapted to the expression of a certain order of emotion or idea, and that the distinctions between one art and another are not to be inconsiderately swept aside or obscured.
Yet art is one. It is possible, without confusing the individual characteristics essential to each, to discuss these principles under the comprehensive rubric of Art.
It is hoped that in this book the artist may find expressed with simplicity and justice his own highest aims; and that the appreciator and the layman may gain some insight into the meaning of art expression, and that they may be helped a little on their way to the enjoyment of art.
Monthly Drawing Tutorials
As part of your order I'll also provide you with a 7 day free trial to our latest 'Monthly Drawing Tutorials' subscription.
Each month you'll receive two brand new drawing tutorials send straight to your email.
Drawings range from portraits to landscapes, animals to seascape scenes and more.
You'll also learn how to use water colors, pastels, charcoal as well as different shades of pencil and much more.
Normally this costs $129 for a year but as part of your order I'll give you a FREE  7 day trial to the subscription (which you can cancel at any time)
If you enjoy the tutorials (which I'm sure you will), simply do nothing and our systems will automatically charge you a discounted rate of just $9.95/mth.
You can cancel at anytime and there is no risk or obligation on your part.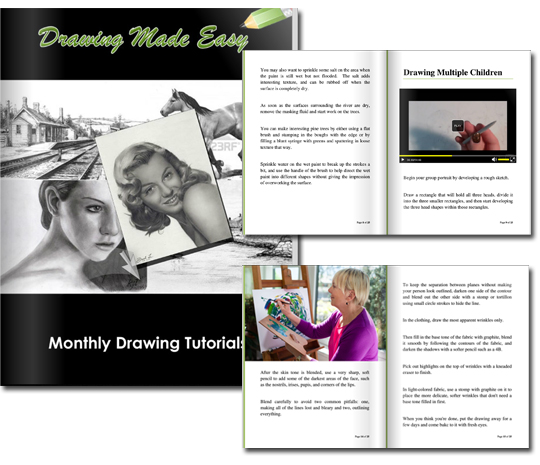 Secure Your Copy Now & Get Started
60 Day Money Back Guarantee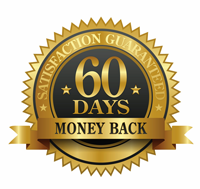 All my customers know that I go the extra mile to make them happy. And you will get the same personal service.
So if you aren't happy with anything at all within 60 days … just contact me at info@drawing-made-easy.com and you'll receive a full refund on course promptly!
This is a great course and I'm glad I signed up for it. I've been on your list for a while and finally decided to purchase. Well worth the money spent! The artist is highly experienced and appreciate her knowledge is invaluable!
My overall impression of this course is fantastic. The way it's explained is very easy and simple. It just makes learning to draw so much better and I can definitely see improvements already! Great videos and keep up the fantastic work guys!
Click the "Add To Cart" button below, fill out your information on the next page, and then once the order is successful, you'll be able to download the tutorial to your desktop.
If you select the hard copy, it will be packaged and sent to your postal address within the next 24 hours so you have a master copy on file for life.
We also provide you with the online version (incase you have troubles downloading or the files are too big) so you can view it online on ANY device and / or take it with you when you travel.
It's that simple! Just a few minutes from now you'll be viewing your first lesson.
Learning to draw your favourite animal is something that rates highly among most artists and when you get the representation of your animal right the drawing will look life like.
The amazing light and dark shades along with the colour is what makes your drawing jump off the page and look like a professional artist has created the picture.
This is an extremely popular subject to draw and with limited copies you better get in fast to secure your very own copy of Animal Mastery.
Well, with that said… all set to begin? Grab yourself something to draw with, something to draw on, and let's get started!
Warm Regards



Chris Elmore
Drawing Made Easy
P.P.P.S. If you're wondering if our course works on a PC or MAC … the answer is BOTH! On the next page you can download either PC version or MAC version as well as view it online. Combined with our full 60 day money back guarantee … you really have nothing to loose and everything to gain.