Learn How To Draw Beautiful Portraits
Easy Portrait Drawing Video Tutorials Taught By A Pro Artist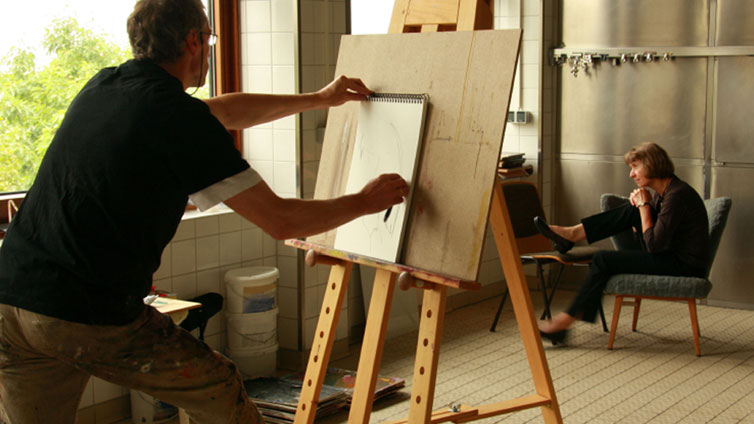 Dear Drawing Enthusiast,
Great drawings over the centuries have often been overlooked as the art masters were recognized for their oil paintings.
Their other drawings were considered to be drafts of their final work. Drawing is a quiet and thoughtful contemplation of the world and is an exquisitely expressive way to show your inner visions to the world.
A well done drawing tells your story and states your truth without saying a word. No other arts are comparable to the beauty of effortlessly but masterfully executed by graphite pencil or charcoal.
Using this medium is a great way to draw portraits but you probably don't know where begin?
It can be overwhelming at first because there are so many elements to take into consideration like…
How will the subject pose for the picture?
Will they be sitting, standing, or playing a game?
Who will you include in your portrait?
All it takes is some simple planning before you begin drawing and you will begin to feel the joy of using charcoal and graphite as a drawing medium.
You will also notice its spontaneity and sensitivity.
One can make marks with it which are very painterly, as if with a brush, or one can make fairly technical drawings.
Learn From A Professional Artist Who's Taught Hundreds
… so that with these simple step by step drawing lessons you'll be able to draw portraits using charcoal & graphite in record time – and this goes regardless of your previous experience.
This course centres on 3 different portraits….
Family Portrait
Toddler Portrait
Celebrity Portrait
It contains techniques to create realistic looking artwork to provide you with valuable insight into the methods used by a real artist.
Once you know how to create realistic looking textures, you're on your way to creating much more realistic looking artwork.
Like with anything in life, practice makes perfect. Be persistent! Be determined!
If you want to learn to draw to a standard you're happy with, you need to get the basics right from the outset.
We created this course to share the passion and dedication to providing information regarding the art of realistic charcoal and pencil drawing.
No more smudgy mess with black and white that looks like a first grader whipped up in art class. You will see firsthand from a real artist just how you can draw portraits that might even become a family heirloom.
"Portrait Mastery" is generously illustrated showing you step-by-step just how to create a real life portrait.
We have left nothing out and you will receive step by step instructions with comprehensive videos so you can see firsthand how to create portrait drawings.
Let Your Creativity Take Over When You Finally Learn These Closely Guarded Secrets
I'll Also Throw In These Additional Bonuses
How To Become a Pro Pencil Drawing Artist Ebook + Audio
Now, you have the key to become a talented professional artist yourself and also be able to teach others.
The e-book offers a step by step guide to learn pencil drawing.
It also tells you about the qualities required in a professional drawing artist.
In short, the e-book offers you extensive training directly from the guru of pencil drawing.
So, its now or never! If you have always dreamt of making pencil sketches like that of Bert Leger and Dennis Edward Simon …then here's your chance to realize your dream.
Only a real master can teach you the real tricks and skills of an art.
I have created this e-book especially for budding artists like you who need guidance from a master to flare up their passion of becoming a professional pencil drawing artist.
Monthly Drawing Tutorials
As part of your order I'll also provide you with a 7 day free trial to our latest 'Monthly Drawing Tutorials' subscription.
Each month you'll receive two brand new drawing tutorials send straight to your email.
Drawings range from portraits to landscapes, animals to seascape scenes and more.
You'll also learn how to use water colors, pastels, charcoal as well as different shades of pencil and much more.
Normally this costs $129 for a year but as part of your order I'll give you a FREE  7 day trial to the subscription (which you can cancel at any time)
If you enjoy the tutorials (which I'm sure you will), simply do nothing and our systems will automatically charge you a discounted rate of just $9.95/mth.
You can cancel at anytime and there is no risk or obligation on your part.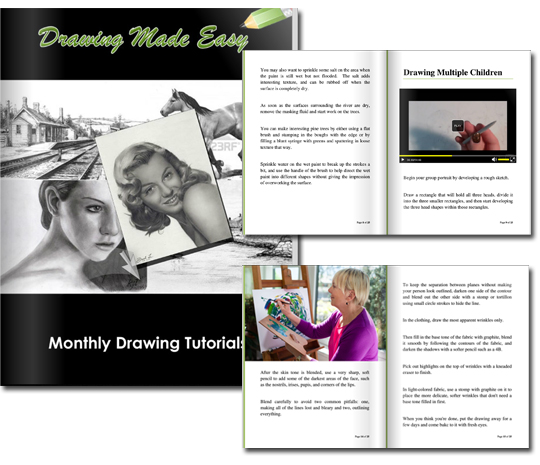 Secure Your Copy Now & Get Started
60 Day Money Back Guarantee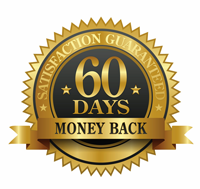 All my customers know that I go the extra mile to make them happy. And you will get the same personal service.
So if you aren't happy with anything at all within 60 days … just contact me at info@drawing-made-easy.com and you'll receive a full refund on course promptly!
Absolutely brilliant! So much more than what I expected and I didn't realise there are so many tricks to getting portraits looking more realistic. Loving every minute of this and can't wait to put my new skills to paper : )
Very glad I decided to give this course a try. I felt as though I learn't more with this course than the $500 workshop I attended in the past. Absolutely brilliant teacher and artist. Well worth every penny!
Click the "Add To Cart" button below, fill out your information on the next page, and then once the order is successful, you'll be able to download the tutorial to your desktop.
If you select the hard copy, it will be packaged and sent to your postal address within the next 24 hours so you have a master copy on file for life.
We also provide you with the online version (incase you have troubles downloading or the files are too big) so you can view it online on ANY device and / or take it with you when you travel.
It's that simple! Just a few minutes from now you'll be viewing your first lesson.
If you have always wanted to draw portraits then we are going to allow you to grow as an artist and have a constant reminder of just how amazing your drawing is.
Learning to draw people is a very honest form of art and no other arts are comparable to the beauty of effortlessly executed works.
The gray scale of a graphite & charcoal drawing is very soothing to look at. It seems cool and unhurried and with Portrait Mastery your drawings will come to life with realistic qualities.
Well, with that said… all set to begin? Grab yourself something to draw with, something to draw on, and let's get started!
P.P.P.S. If you're wondering if our course works on a PC or MAC … the answer is BOTH! On the next page you can download either PC version or MAC version as well as view it online. Combined with our full 60 day money back guarantee … you really have nothing to loose and everything to gain.